Things To Know Before Visiting Corbett National Park
The oldest national park, Jim Corbett is located in Uttarakhand's Nainital district amid the Himalayas foothills. Jim Corbett National Park, which is a part of the larger Corbett Tiger Reserve, is famous for sheltering the critically endangered Bengal tiger.
Jim Corbett National Park is well-known for its wildlife safaris and features many riverbank resorts. It is a sanctuary for bird lovers, with more than 650 species of birds. Therefore, be sure to complete your Jim Corbett National Park Booking in advance if you want to spend some time in the middle of nature admiring the variety of Flora and Fauna.
The main draw of the Park is Dhikala, famed for its breathtaking setting and abundant wildlife that is situated on the edge of the Ramganga river. Jim Corbett National Park remains closed during the monsoon season from July to October. However, the tourist areas of Jhirna, Dhela, and Sitabani outer are open all year round to visitors. The officials in charge of the forests organize safaris in two shifts throughout all the zones.
Adventurous Jungle Safari -
Plan your holiday to enjoy the adventurous Jim Corbett Jungle Safari. One of the oldest Jim Corbett National Park draws various visitors from both domestic and international locations. Wildlife enthusiasts come thousands of miles to see magnificent creatures. By making a Jim Corbett Safari Booking in advance you can focus entirely on enjoying the animals without worrying about lodging, meals, or guides.
Jeep Safari in Jim Corbett: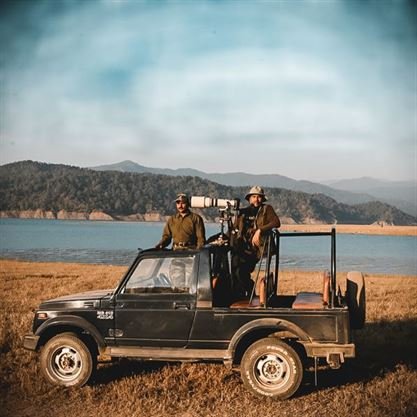 It is one of the most authoritarian safari modes. The smaller size of a jeep compared to a canter lets you explore every corner of the jungle, where we are able to easily spot tigers. An open jeep carries you inside the forest. You will only have one wildlife tour guide with you the entire time. He or she gives you all the information you would need about the forest and assists you in understanding the habitat and movements of the animals.
Jeep Safari Prices and Safari Zones
| | |
| --- | --- |
|  Price for Indians | INR 5500 /- (Sitting Allowed - 6 Adults & 2 Children (Age Between 5 to 12 years) |
| Price for foreigners | INR 10000 /-[Sitting Allowed - 6 Adults & 2 Children (Age Between 5 to 12 years) |
| Safari Zones | Bijrani, Garjiya, Dhela, Jhirna, Durgadevi, Sitabani |
| Safari Timing | Morning 6:00 AM - 1:00 AM | Evening 2:00 PM - 6:00 PM (Changes with season) |
Canter Safari in Jim Corbett:


The only option through which you can get inside the Dhikala Tourism Zone for a day visit is on a canter safari. Corbett forest officials run the canter in two shifts. Take a canter while you are travelling in a group. The Canter safari is a sharing bus. It is the ideal and most effective approach to exploring the Dhikala forest region.
Canter Safari Prices & Safari Zones
| | |
| --- | --- |
|  Price for Indians | INR 1600 / Person ( 16 Seats) |
| Price for foreigners | INR 3000 / Person (16 Seats) |
| Safari Zone | Peaceful Dhikala Zone |
| Safari Timings | Morning 6:00 AM - 11:50 AM | Evening 12:00 PM - 6:00 PM |